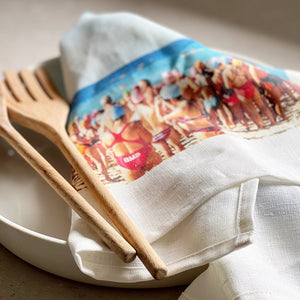 Tea towel, The Starting Line, Bondi Beach
Sale price Price $35.00 AUD Regular price
When the warm weather arrives, Bondi Beach hosts all sorts of fundraising swims, some more challenging than others. It's incredible how many people take part, and the range of ages of participants. On these days, you'll find the surf clubs cranking up the barbie for a sausage-sizzle. That smell wafting over the beach .. there's no better way to get swimmers over the finish line. 
Made from 100% linen, these tea towels add pop and conversation to the kitchen. I love to see them draped over the handle of my oven door. Tea towels are a necessity and I say they may as well be beautiful!

Each towel measures approx 66cm x 45cm (26in x 18in). White border around image.