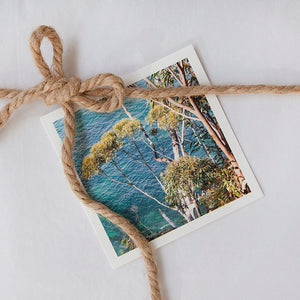 Cards "Mollymook Gums"
Sale price Price $55.00 AUD Regular price
Take an afternoon walk along Mollymook Beach, then connect with the little winding track to Narrawallee.  You'll get the full Australian beach and bush feels with gusty breezes, glimpses of beautiful blue sea through the Gum trees, and almost always the sound of kookaburras. Bliss.  
Premium quality square cards with a beautiful textured finish.  12cm x 12cm (4.7" x 4.7").
Blank inside, for every occasion. Set of 10.