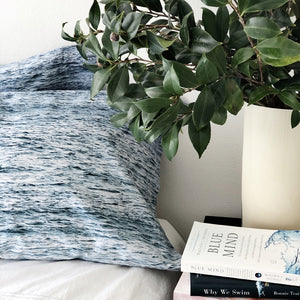 Linen Pillow Case in Ripples
Sale price Price $170.00 AUD Regular price
Our feature pillowcases are a beautiful addition to the bedroom. Made from a soft handkerchief linen, they are comfortable to sleep on and beautiful to layer against crisp sheets, neutral coverlets and textured throws. Heavenly. 
Ripples features an image of a rippling sea, with its currents and variants of blue, on a calm day at Sydney's Tamarama Beach.
Set of 2. 100% linen. Pillow cases only.
Fits standard size pillow. 
64cm x 46cm plus 7cm flange either end.
Image on both sides of pillowcase.