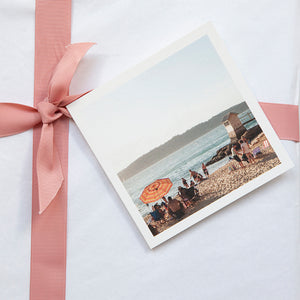 Cards "Sunset at Camp Cove"
Sale price Price $55.00 AUD Regular price
Few harbour beaches are more delightful than Camp Cove. Sheltered and calm, with views of the city, it's a perfect spot any time of day. Come sunset, this little sandy spot has a vibe of it's own. Cool beats from the cafe and a mineral water in hand, and I guarantee you won't want to leave ..

Premium quality square cards with a beautiful textured finish.  12cm x 12cm (4.7" x 4.7").
Blank inside, for every occasion. Set of 10.