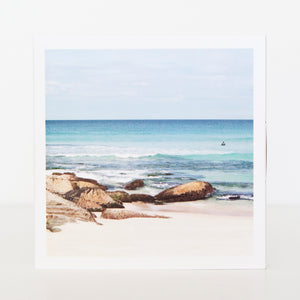 Boxed Set of Cards "Tamarama Beach"
Sale price Price $50.00 AUD Regular price
Our boxed set features two images of Tamarama Beach across two seasons - the calm of a sunny Winter day with it's crystal clear water and wet-suit clad surfers, juxtaposed with the languorous and lazy feel of sunbathers relaxing on a Summer afternoon.
So much personality in such a small curve of sand. 
A perfect, practical gift, or a great way to keep a stash of lovely cards to hand for birthdays and thank-yous .. 
Premium quality cards with a beautiful textured finish.  Blank inside, for every occasion. Each card 12cm x 12cm (4.7" x 4.7").  Digitally printed in Australia from responsible sources.
Set of 8 notecards with envelopes. 4 each of two designs.