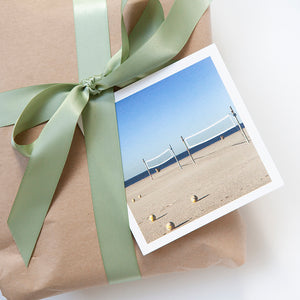 Cards "Winter, Santa Monica Beach"
Sale price Price $55.00 AUD Regular price
It was Christmas Day and I had just staggered off the flight from Sydney, in desperate need of sunlight and sea air. I headed to the beach at Santa Monica and marvelled at the emptiness. Barely a soul on the windswept sand; just beach volleyball courts waiting for players .. 
Premium quality square cards with a beautiful textured finish.  12cm x 12cm (4.7" x 4.7").
Blank inside, for every occasion. Set of 10.