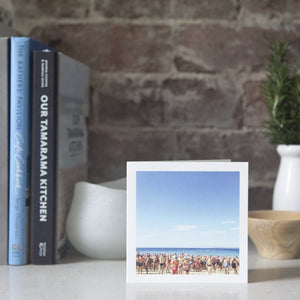 Cards "The Starting Line, Bondi Beach"
Sale price Price $38.00 Regular price
Come Summer, Bondi Beach hosts all sorts of fundraising swims, some more challenging than others. It's incredible how many people take part, and the range of  ages of participants. On these days, you'll find the surf clubs cranking up the barbie for a sausage-sizzle. That smell wafting over the beach .. there's no better way to get swimmers over the finish line.
Premium quality cards with a beautiful textured finish.  Blank inside, for every occasion. Each card 12.5cm x 12.5cm (5" x 5"). Set of 10.